This is Adalyn.
This is Adalyn swaddled in her Aden+Anais lion blanket.
You need this blanket.
You know I'm a little into baby products. Like, a lot. And when I find one I love, I love to share it with you. I couldn't
not
share this product with you. It is my absolute favorite.
These blankets are made of Muslin and seem like a bizarre material, but they are perfect in every way. They come 4 to a pack and can be bought at Target. My princess owns the jungle pack, because I'm not a fan of lots of pink.
Now, while they are
marketed
as blankets, let it be known that they serve MANY more purposes. Guys, I use these blankets all.day.long. Cripes, how did I survive without them for the first four months of her life?!? And now, without further ado, let me share the glories of these blankets with you:
-Blankets. Obviously we use them to cover her up. Perfect in every way for swaddling - they're the only blanket large enough to swaddle her now. Cool enough for spring & summer and can be layered for winter months.
-Nursing cover. 6-Month old kids aren't into being covered up while they nurse. Heck, who wants to eat under a blanket anyway?! Her arms flail and she
will
throw her blankets off when we nurse. These are the ONLY blankets I can NIP (nurse in public) with and the best part? They're thin, so she no longer turns into a big sweaty mess while she eats. Whew.
-High chair cover. Um yeah I've not bought a high chair cover for restaurants. Maybe I'm cheap. But for now I throw a blanket on the high chair and sit her in it, so she isn't touching any yucky germs. This also goes for shopping carts.
-Kleenex. Yeah, I totally wipe her nose with an A+A blanket when I'm in a pinch.
-Mat for diaper changes and play time. I lay these in public restrooms and such when I need to change a diaper. They wash easily in cold water, so it's perfect!
-Sun shield. The sun is bright now that spring has sprung. If she's asleep in her car seat, I throw a blanket on top to shield the sun from her. Light enough to be breathable, yet perfect for blocking harsh sunlight.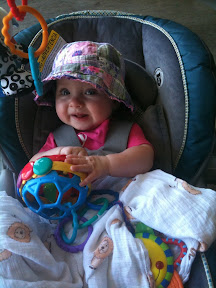 Did I mention that they can be squished up super small to fit in a diaper bag with ease?! They are PERFECT. You and your baby
need
these. Especially for nursing. Without these blankets, I'd either have to nurse without a cover and be brave or nurse in a bathroom or car and hide. Neither of which are options to me, really. That's how important they are to me.
Now skip on over to Target, my second home, and buy some for your little love. Thank me later :)
- Posted using BlogPress from my iPhone