A couple of days ago, my heart became whole again.
Mark came home!
Dates switched back and forth for weeks! But about a week before he flew home, he was told the date. June 29 at 1145pm. Hallelujah! But not the best time for an 8-month old to be trotting around an airport.
I will do a full blog post (including video - yes, we got it on video, thanks to my bff, Amanda!) and photos of us reuniting. But we don't have Internet or the photos yet, so it will have to wait! But there's this: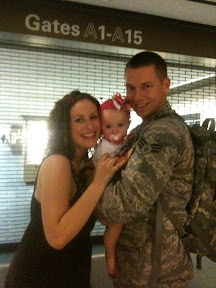 And this: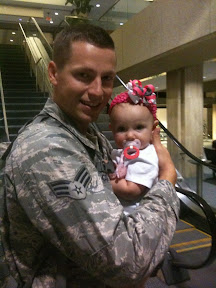 It was the most shocking moment of my life. In a weird way. I hugged him so tight and
could not
talk. I just stared at him. And he asked, "You can't talk, can you?" and I just shook my head no and hugged him even tighter.
And then the tears came.
It was magical and beautiful and perfection at midnight when he held his daughter. Not one tear was shed (by her, at least!) and I could not have asked for a better homecoming.
~~
So, what have we been up to? Oh, everything under the sun. We have stayed so busy that poor Adalyn has had to take *all* of her naps in the car. But it's a great kind of busy -- buying things for our home, looking at furniture, going to restaurants that Mark has been dreaming of for 6 months... It has been perfect. And yesterday was one of the best days of my life!
We are so, so happy and can't stop hugging each other. I can't wait to show you our home and to tell you about Adalyn's first trip to the beach and to show you all that we're up to. Cause we are super busy.. But busy in the best way on earth. Busy being a family together and loving every single minute of it.
I love him :) and I love our life together.
iPhone