I made my very first homemade soup tonight! Besides chili, which isn't really a "soup" to me [though I guess it is, since I eat it with a spoon. But chili is chili, right?] I'd never had enough guts to attempt a soup.
But I finally found a fantastic recipe from
THIS
mommy blogger! This woman cooks pretty tasty-looking food, and it's all very easy to do. No weird ingredients, no difficult steps -- pretty simplistic! I have a serious love for potato soup, so I thought I'd give it a go!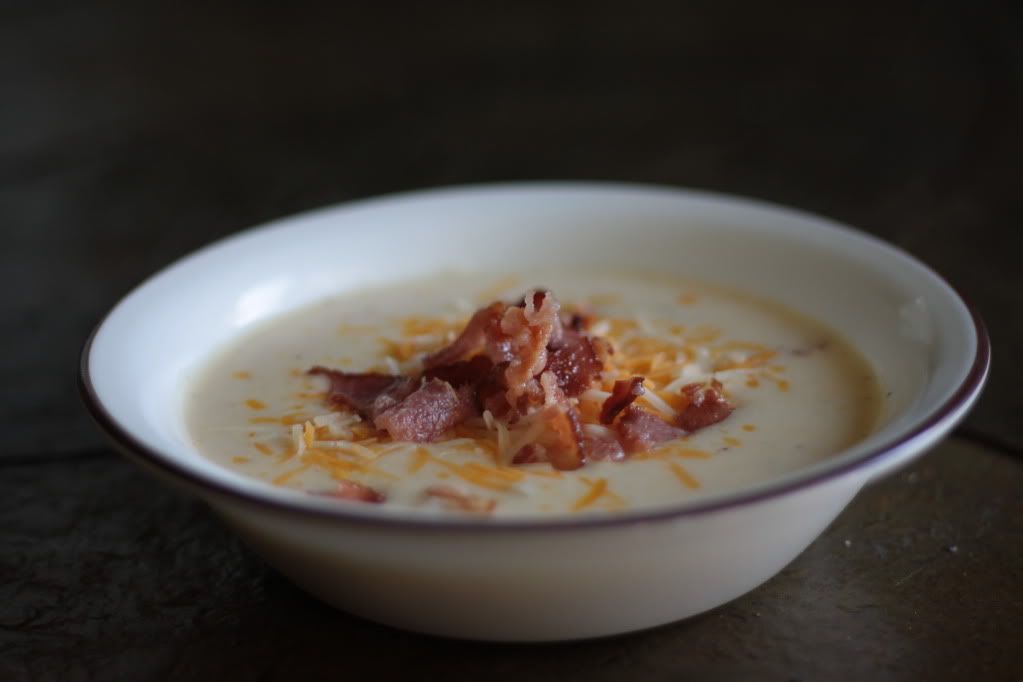 My favorite part about this dinner is that it's cheap. The only meat involved is bacon, which will come in handy later this week when I make little smokies and even later on with french toast. I always have the other ingredients. And, boy, my husband L-O-V-E-D this recipe!
Stolen right from
Mommy's Kitchen
:
Loaded Baked Potato Soup
4 - baking potatoes
2/3 cup butter
2/3 cup all purpose flour
4 - cups milk
2 - cups chicken broth
3/4 tsp salt
1/2 tsp pepper
12 - slices bacon, cooked & crumbled
1/2 cup chopped green onions
1 - cup shredded Cheddar cheese
1 - 8oz container sour cream
Bake potatoes in the oven or microwave. Scoop out the inside of the potato and set aside. Cook bacon in the oven while the potatoes bake at 350 degrees until crispy. Crumble and set aside. Melt butter in a large pot over medium low heat. Stir in flour to make a roux. Cook about one minute stirring constantly. Gradually pour in the chicken broth and milk while stirring. Turn the heat to medium and cook the soup until it starts to thicken. Add the potatoes, salt, pepper, bacon and cheese. Stir well and continue to heat for about 15 minutes allowing the flavors to blend. Mix in sour cream until well blended. Serve immediately. Garnish with green onions, additional bacon and shredded cheese.
oh me.
yum.

~~~~
Two alterations: I only used 3 (smallish..) potatoes, because Mark misheard me and only put 3 in the oven instead of 4. I also didn't fully use 8oz of sour cream, because I was afraid it would be super creamy. Instead, I only used about 5oz. Or so. I kind of just scooped out as much as I wanted. In the end, I added more pepper and a smidge more salt. Oh, I also left out the onions, because our onions are
suuuuper
strong and I just didn't bother. And I also didn't use 12 slices of bacon. I used 5. Apparently I altered this recipe more than I thought - ha!
Guys, it's SO EASY. I was shocked. You basically just dump it in a pot and go to town! Who knew that soup was this easy!? Mark gave it a 10/10 and ate 3 (yes THREE!) bowls! I'm as happy as a clam, my belly is warm and full, and life couldn't be any more grand.
If you're interested in what's up later this week* in my kitchen...
Mon: chicken casserole
Tues: chili & grilled cheese
Weds: spaghetti
Thurs: eat out**
Fri: chicken fingers
Sat: french toast & bacon
Sun: chicken fingers
Mon: potluck with small group
Tues: pancakes, eggs, bacon
*Subject to change. I have a super huge aversion to spaghetti lately, so I might insist we change it to another beefy dinner, such has hamburgers. Or Hamburger Helper Enchilada.
**We're meeting a friend at the mall to eat. Which is totally breaking the rules for my "Two weeks of homecooking." Sigh.
Or, if I get the courage, I might replace the pancake night with vegetable soup. But I just don't have the guts..