I really try to save money where I can and love a good consignment store or sale. But there are a few things that I totally justify spending the extra money for.
1. Ella's Kitchen Organic Baby Food
or
Plum Organics:
I give Nugget some baby food about once a week, and she loves it. I discovered this awesome baby food at Target, and I'm smitten. Adalyn adores (!!!) this food and I can't say enough great things about it. It (obviously!) comes in little pouches with a screw-on top, so you squirt a little food on the spoon, and you can save the rest for later! This food tastes so good - my personal favorite is Pumpkin & Banana!
I definitely plan on making my own baby food this summer, but for now? We love our organic baby food!! It's basically twice the price, but I'd pay anything for my baby girl to have healthy, tasty food for her little belly!
2.
Manhattan Toys
:
Oh.My.Gosh. I am IN LOVE with this brand. Adalyn owns more of these toys than I can even count, and I am so glad I discovered them at Barnes & Noble. Our baby has quite a few toys, but she evidently, obviously, without a doubt prefers
Manhattan Toys
every single time. They're odd looking things, but they're perfectly designed for babies. I can't rave about this brand enough. Seriously, FORGET Fisher Price!! And actually, forget Baby Einstein. Adalyn doesn't even give a second glance to her Baby Einstein toys (sadly!).
Her favorites are her Winkel and Skwish. We also just got a Manhattan Toy cloth book, and I LOVE it. You can order them fairly cheap on Amazon (just search "Manhattan Toy") and get free shipping with Amazon Mom. These toys are the only ones that her little hands can hold and are made
just
right for her development. I have my eye on the Whoozit line. And let it be known that she's getting Baby Stella and the Diaper and Feeding Set for her first birthday!! Woo!
3. Sleepies:
Adalyn isn't a very peaceful sleeper, as I've said 2 million times on this blog. I am ever so thankful for our Miracle Blanket that gave Adalyn secure, snuggly hours of sleep until she was 3.5 months old. But now? She gets zipped up in a Magic Sleep Suit. It looks like a comfy snowsuit, but we love it around here! It keeps her warm and I can now lay her down so easy for naps. This thing was an expensive $45 with shipping, but I think it's worth it. Granted, her sleeping hasn't dramatically improved, but we use it for every single nap and each night.
My mom calls her an astronaut baby. I think she's the cutest sleeping marshmallow on the block.
4. Sweet dresses for pictures!
I'll soon be making an appointment for pictures, and Ad already has her Easter dress ready for the occasion!! I love (!!!) smocked dresses, but they are VERY pricey. Our little one has 3 -- two came from consignment and one is from great grandma! I am a sucker for those little ruffles and sweet hand-sewn designs.
Sneak peek!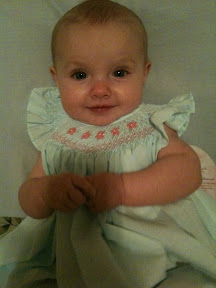 A mama can't help but splurge SOME of the time, right!?