A few days ago, I mentioned making chicken spaghetti. And I promised to share it (the recipe) with you. Then I forgot about it.. but I'm finally getting around to it today.
I got the recipe from
News Channel 5 in Nashville
and my mom suggested that I try it out! It's pretty much a typical casserole and includes all of our favorite things: chicken, pasta, mushroom soup, and cheese.
Yummy.
The great thing about this recipe is that it actually makes a huge pan of food. Normally, Mark eats every.single.bite. of the food I cook. But with this jumbo recipe, we actually had leftovers! I just used one tray of chicken tenderloins (super cheap at the commissary) and I guesstimated 8oz of pasta. I ended up only needing about half a cup of chicken broth.. but otherwise, this recipe was a hit!!! I normally hate mushrooms, but I
loved
them in this recipe.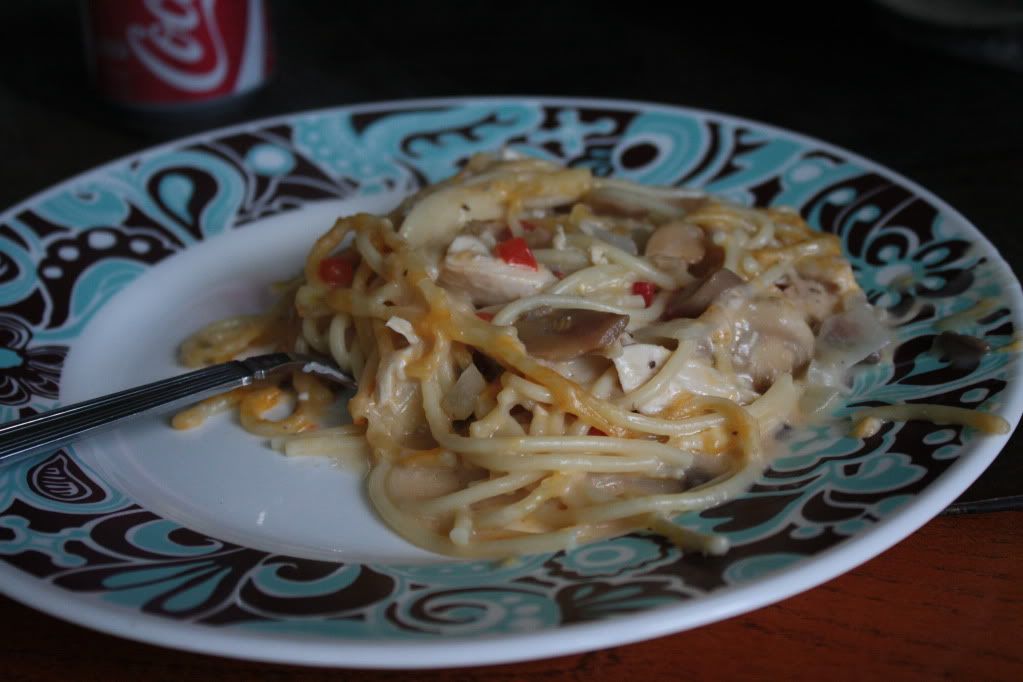 Mark gave me a high-five for this meal.. which is the ultimate response from my husband :] Just click
HERE
for the recipe. Yummy!
~~~~
I'm less than a week away from my due date, and I'm extremely anxious! Well, if you go by ultrasound dating, I'm due today! And if you go by my digital ovulation tests, I'm due Friday. And if you go by my last menstrual period, I'm due Sunday.
Capish? :]
I'm going by the ClearBlue digital ovulation tests, so I know exactly when I conceived. Just for the record!
I actually thought that I was going into labor last night. While in Target, I started having many (MANY) consistent, powerful, long-lasting contractions. And they lasted for hours. While in the car on the way home, I got so tired that I couldn't even keep my head up. Then I came home and laid on the couch and slept like a rock. Contractions continued and eventually fizzled out in the middle of the night. I knew not to say anything, because I doubted that it was the real deal. And I was right!
But I have an appointment later today, so we'll see how things go! Our bags are
kind of
packed. Our pillows (we have to bring our own), suitcase, and diaper bag are sitting in the hallway.. just waiting to go! I'm so excited that I could explode. Piper has started completely ignoring me. She won't even sit next to me now. Last week, she would curl up around my belly and refused to leave my side. Now? She's at the opposite end of the couch. I wonder what this means!
Mark and I have been going on lots of dates. And, thanks to Columbus Day, I get the day off with him today too! So now we're just waiting and waiting and waiting. And I'm trying to soak up every single kick, wiggle, and roll that my baby girl does. Because pretty soon, she'll be born! And I can't imagine how much I'm going to miss this pregnancy.
Sniff! :\