Remember how my parents are bringing Clayton to visit me in early April? Well, my sister has asked me to blog our tentative itinerary! I've spent a lot of time researching my area and finding fun things for all of us!
Without further ado:
Wednesday
:
Fly in at 1pm -- pick them up and head to the
Virginia Aquarium
This is a HUGE aquarium -- including exhibits such as: Malaysian Peat Swamp, Red Sea, Indonesian Volcanic Island, Light Tower Aquarium, Blue Crab & Aviary, Norfolk Canyon Aquarium, and the Chesapeake Bay Touch Pond.
The aquarium also has an IMAX theater with a screen six stories tall and eight stories wide! We'll likely see a little movie (about 40 minutes long) about whales or dolphins or sea creatures!
With huge turtles, seals, komodo dragons, and tons of sharks and amazing fish, Clayton is
sure
to love it!
Come home? Go out to eat?
-------------------------------------------



Thursday:

Fun In Richmond
We'll start out at the
Children's Museum of Richmond
. It looks SO fun! (and makes me feel a little bit
MckMama-ish
)
There are so many fun exhibits here:
Blocks
,
Cave
,
Dairy Barn
,
Dino Zone
,
Little Farm
,
Play House
,
Sun Tubes
,
Town Square
,
Treeclimber
, and
Water Play
. Oh, if
only
Hudson could come too!
Sadly, the Little Farm is only for 3 & under (Hudson would LOVE IT!) - but I have a sneaky suspicion that Clayton will
love
the Town Square, Dairy Barn, Dino Zone, Play House, Treeclimber & Water Play! I can't wait to see him in action! ($8)
~~~~


Afterward, we'll head to the
Short Pump Town Center
, Richmond's huge huge mall! We might dine at the Cheesecake Factory (mother's request!) and look around.
~~~
Next, we'll mosey on over to the
Science Museum of Virginia
!
There's so much to learn here - from gravity to electricity to DNA and light, and tons about outer space. This one's still
iffy
, as someone (who shall not be named, but whose name rhymes with Layton..) might need a nap around this time. ($10 for adults, $8 for kids)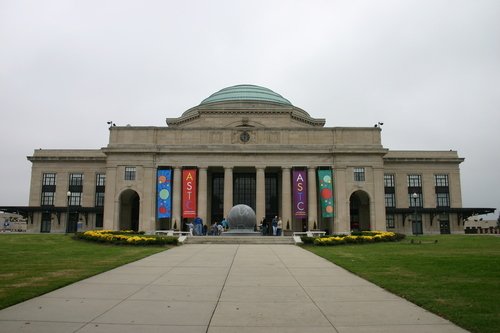 ----------------------------------------------
Friday:



Maybe

a lunch cruise on the Spirit of Norfolk. It's about a 2 1/2 hour day cruise where you enjoy the scenery and eat a big lunch. ($36.90 for adults, $18.45 for kids). Seems kinda steep, but it would be a fun experience. It's supposedly one of the "top things to do" in the area.

Later, hang out at the house? Visit the base? I don't know!
---------------------------------------------------
Saturday:

Day at the beach?
Should be good weather (hopefully) so we may be able to go to the beach and have fun building sand castles and playing in the ocean!
Ideas??
--------------------------------------------------

Sunday:
Church, hang out around town, drive them to the airport later that night.
~~~
I still need lots of suggestions and ideas! We
could
take a trip on Saturday to the Williamsburg outlet mall or to Virginia Beach -- I don't know! Anyone have any ideas??
I can't wait! April can't get here soon enough!