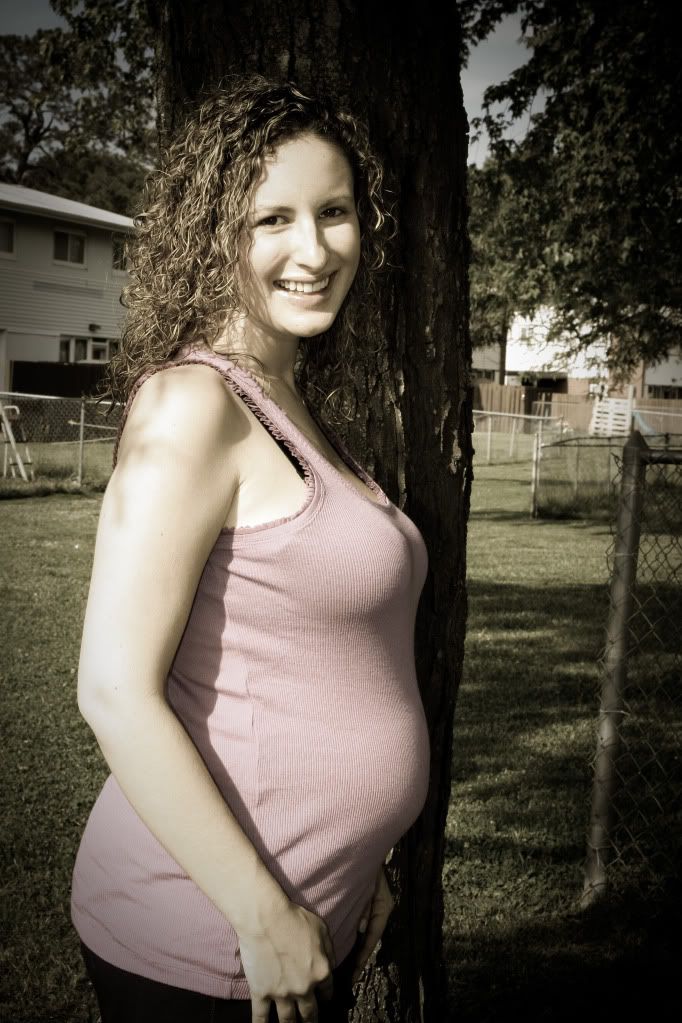 ok pause.

When I shrunk this photo for blogger, it created these lines in my shirt. These lines don't really exist at all. It's just a normal purple shirt. And now it looks like I have weird ridges all over my tank top. Ugh! How annoying! Anyway :)


How far along?
19 weeks 5 days. Let's just say 20.
Total weight gain:
9lbs.
Maternity clothes?
Mostly just loose-fitting pre-pregnancy shirts.
Sleep:
Doing much better! I flop from my left side to right side all night, but it's no big deal.
Best moment this week:
Getting her nursery set up and ready to roll!
Movement:
She's moving right now! This morning I felt her much higher than I've ever felt her, but right now she's back to being low.
Gender:
Daddy's little girl!
Labor Signs:
Nope!
Belly Button in or out?
In!
What I miss
: Not getting up to pee during the night :) I miss those days when I had a normal-sized bladder!
Weekly Wisdom:
Um, drink lots of milk? I'm so bad at these weekly wisdom things.
Milestones:
Being one day away from being HALFWAY THROUGH with this pregnancy!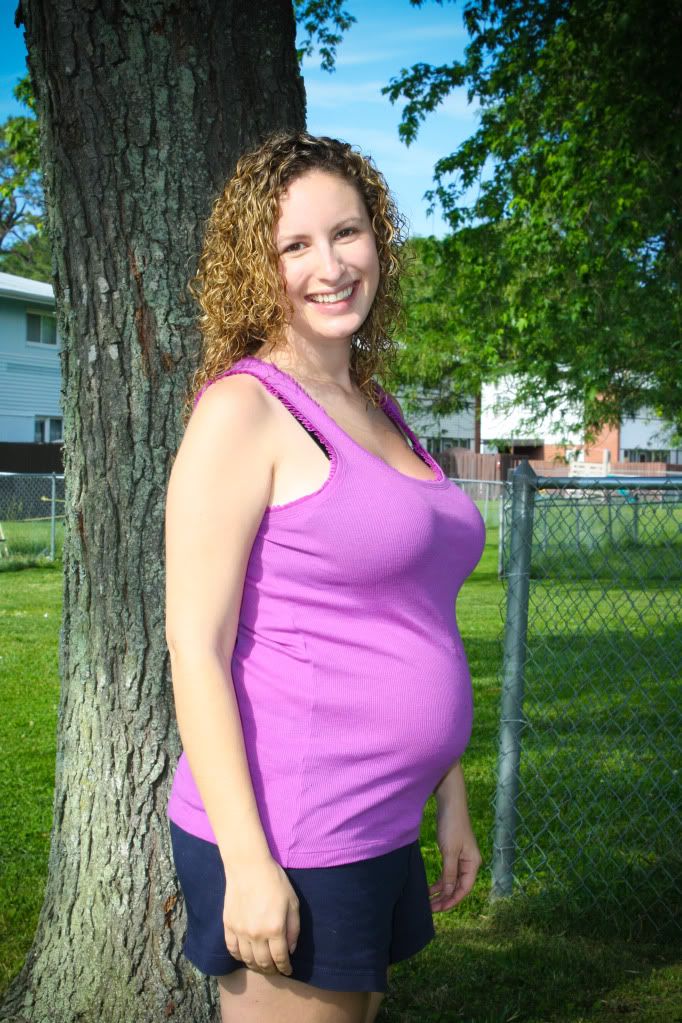 This week, our little girl...
-Measures about 10 inches long
-Weighs about 10.5oz
-Is now producing meconium
-Is now familiar with my voice
I didn't realize how much my belly stuck out until I saw these photos. Woah! It looks like a little basketball under my shirt!
Last night I talked to C for about 30 minutes on the phone. We talked about
everything
, including Punkin. He says we should nickname her SpiderGirl and thought that was just hilarious. He still says he wants a little sister "so bad," and even told his mama (my sister) to "talk to God" about it.
He is so ready for me to come see him. He hast a list of things we
have
to do together:
-play Mario (the original version on the original Nintendo!)
-play a variety of games (Hungry Hungry Hippo, Don't Break the Ice, etc.)
-go to a couple softball games of his
-sleep in his bed with "hundreds" of stuffed animals
-go swimming
So so so so excited! Yet sad that I can't bring M with me. However, he gets a 4-day weekend this week (Military Family Day, the weekend, and Memorial Day) -- yippie skippie for military holidays!
Did I mention that I won a
FuzziBunz
cloth diaper from a local drawing and
The Jesus Storybook Bible
from
MckMama
? I did, and I can't wait to see them! We also tried a free trial of Netflix and promptly canceled it -- it wasn't too great for us. Tonight I tried a chicken-rice-mushroom soup casserole thing, and it was good. Got my bridesmaid dress for my friend's wedding. Working on a tan so I'm no longer pasty white. Wishing it would get steamy hot here, because I'm so ready for it.
The end :)