I may be a
smidge
partial to our West Highland Terrier, but I am most positive that we own the world's BEST dog in the universe. And, if not, she's most definitely in the top 5. The proof is in the pudding (or the Iams dog food that she eats):
1. She doesn't have an aggressive bone in her body. She has never, ever tried to bite us or bring any harm to us. I kiss her all over her snout, and sometimes Mark kisses her on the lips. She loves it and is the most gentle thing ever.
2. She's 100% trustworthy. By December, we decided to let her roam the house when we were gone. At first, I was weary. But she sure proved us wrong: She has
never
EVER touched anything human. She has no desire to bother our things, chew on anything, or be a normal "dog." She only plays with her toys. This has never, ever been an issue - not even as a baby puppy. When we leave, she lays on the couch and watches television. How do we know? Sometimes, we get out of the car and sneak up and spy on her through our window.
3. She doesn't bother me. Ever. In the mornings, she will wait for me to wake up. She hasn't had to wake me up since she was about 6 months old (and had a smaller bladder). Now? She patiently waits for me to get out of bed in the morning. I love it. She's so thoughtful.
4. She's a cat. No, really. She doesn't run through the house like a hooligan unless we want her to. Her most favorite hobby is sitting on the arm of the couch and watching the outdoors like a cat.
5. I can hold her like a baby, caress her, and she love love loves it. Today, we watched Let's Make A Deal, and she put her face right next to mine. And she breathed on me while I scratched her belly. It was a little piece of heaven.
6. I can poke her, groom her, and do whatever, and she's fine. Sometimes I like to look at her cute little teeth. And sometimes I like to play with her paws. And sometimes I like to touch her tail. And I always keep her face looking immaculate. She's fine with it all and takes it like a champ. Cool as a cucumber.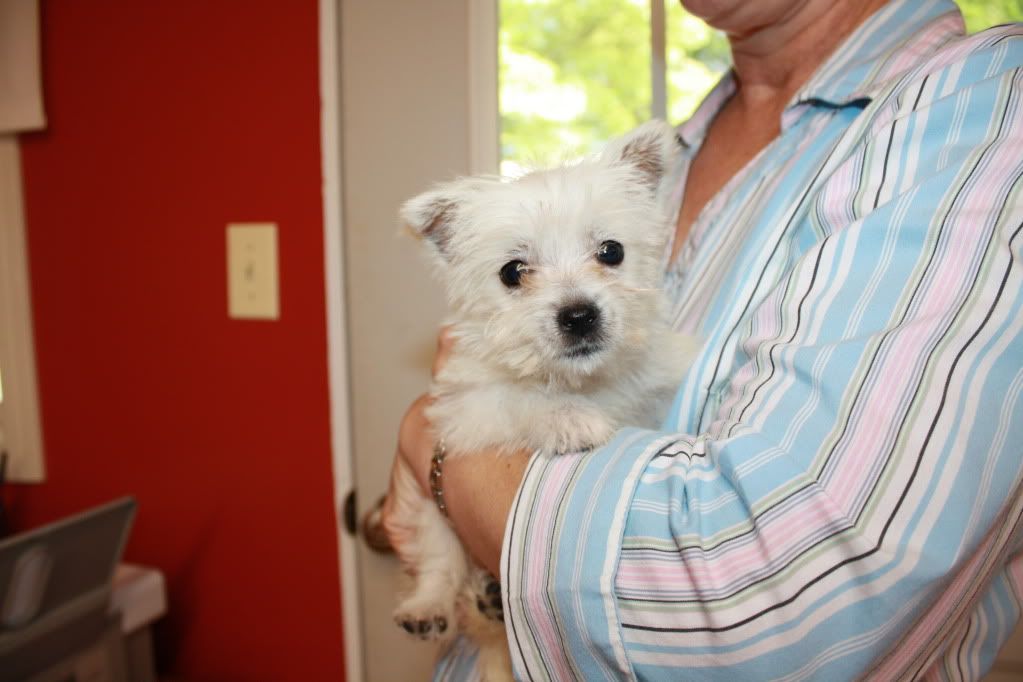 7. She's totally potty trained and uses her poochie bell like a pro. We skipped out on puppy pads and a whole lotta messes by using the poochie bell. She is
such
a star!
8. She has a human heart. If we do have to tell her "no," her ears go back and her feelings are very hurt. If she is able to, she will go underneath a chair and pout. When she realized that my sister and Hudson did not like her, she would hide under their chair and sulk. She does not like to be disciplined. But it only takes one "no" and she stops immediately. Her behavior is immaculate.
9. She's absolutely beautiful and is completely photogenic. She knows she's cute, and she embraces it. Having her photo taken is one of her favorite activity. She's great at posing and has the "stay" command perfected to the T. She is a dog right after her mama's own heart -- we both love the camera! (Well, I like to be
behind
the camera, and she likes to be
in front
of it, so we're a great team!)
10. She loves us unconditionally. And, to me, that makes her the World's Best Dog.