there are a few new things on my Love List. well, to be honest, my "Love List" is brand new. but it's being initiated today with the following 5 things:
1. Bath & Body Works Christmastime socks:
Well, we all (hopefully) know that B&B Works comes out with super soft, succulent socks each winter season. That's nothing new. But these socks? These socks reach even a higher range of soft & squishyness. They have little grippies on the bottom so you don't slip and slide, and they make your feet feel like a dream. I, of course, got the brightest pair in the store, but they come in solids, as well! I got them for only $5 -- totally worth it! Yes, you could say that I'm
smitten with socks
.
2. Modern Family
:
I can't be positive, but I think this is the only feel-good, family show on ABC at the moment. It's hilarious!! Like, sometimes I laugh so hard that .. well, I
laugh really hard
. Even Mark loves it. And that big, large man? He is HILARIOUS. Those kids are fantastic actors, and I love that kid Manny. It's just so so funny. And, to top it off, the writers
always
put in some feel-good family life lesson. I mean, I might even compare it to Full House. But not so cheesy. Every episode ends with the family coming together and loving on each other, and it's adorable. And hilarious, did I mention that? Because it sure is funny. Plus, Al Bundy stars in it.
3. You: Having A Baby:
Um, does everyone here know that I really love to read? Huh? Well, I really REALLY love to read. And almost all of the books on my shelf are non-fiction. As the librarians say,
knowledge is power
. (Don't you dare make fun of me..). Dr. Oz is simply fascinating. If you've never tuned into his show in the afternoons, I
highly
recommend it. He's the Vice-Chair and Professor of Surgery at Columbia University as well as directing the Cardiovascular Institute & Complementary Medicine Program at NY Presbyterian. Pretty high status there, dontcha think? Anyhow, this book takes a
holistic
view on pregnancy. Instead of going "week by week" of fetal growth and development, he goes into
why
your body does the things it does -- looking at the medical side of everything. Here are the table of contents:
1. Nice Genes: A new twist on genetics teaches us how a baby really develops
2. Feeding Time: the delicate role of the placenta in the development of your child
3. Eating for Who? Manage the moments when you feel like feeding on everything -- or nothing at all
4. Growing to Extremes: how to make sure your baby isn't too plump or too puny
5. Makes A Lot of Sense: the fascinating world of senses teaches us about the amazing developing brain
6. The Mind of Mom: Manage your stress, sleep better, and find the "om" in mom
7. Let's Talk About Sex: how hormonal changes can do quite the number on you and your body
8. Body in Motion: tackle the unpleasant, uncomfortable, and sometimes risky side effects of pregnancy
9: Special Delivery: find your way through the adventure that is labor and birth
10. And in the beginning... challenges & rewards of the first month after delivery
11. our Pregnancy Plan: use this checklist to arrive at life's most amazing destination
12: Your Pregnancy Toolbox
I highly, highly recommend it! Very informative! And I love books on health-related topics.
4. Bath & Body Works Lip Gloss:
I used to think their lip gloss was sticky and gross. But I had a coupon, so I got the hot chocolate lip gloss. When I opened it up in the car, Mark almost gagged from the smell. I kid you not. It was sort of.. pungent? I'm not going to lie. But now? I'm in love with it. It gives my lips a little tingle, makes them cool, and now I actually
like
the lip gloss. And Mark hasn't mentioned it again, so I think he's
warmed up
to the hot chocolate. Get it? Warmed up? Like the hot drink? .. ok, yes. It was affordable, it comes on with a shimmery clear sparkly look, and it makes my lips feel great. At the moment, it's
all I use
. That is a big step. I'm a huge chapstick-aholic, so moving from chapstick to lip gloss is quite a feat. But I definitely recommend it! Yummy!
5. The peanut butter pie in my fridge: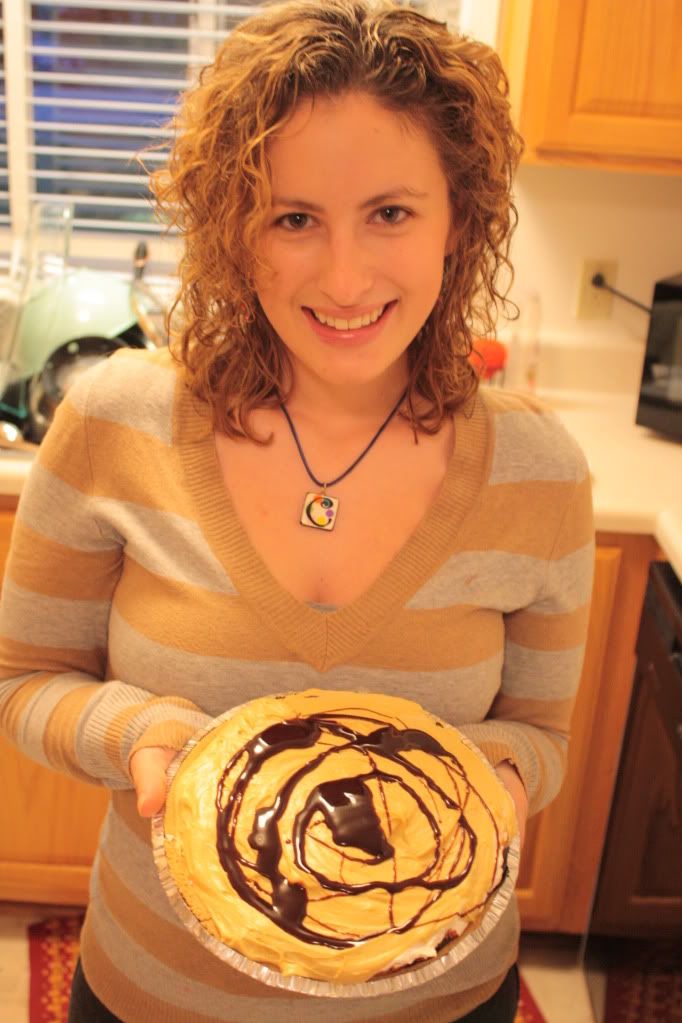 Here's what you'll need:
3/4 cup Hershey's chocolate, divided (kind in the can)
1 1/2 cup milk
1/2 cup creamy peanut butter
2 packages of instant vanilla pudding (4oz each)
1 container of cool whip
-spoon 1/2 of chocolate in the bottom of a graham cracker crust
-spread 1/2 of cool whip on it and freeze for 10 minutes
-pour milk in bowl, add peanut butter, and whisk until smooth, then add pudding mixes
-stir in remaining cool whip
refrigerate for 3 hours and drizzle remaining chocolate on pie
ta da! how easy was
that?!
too easy. and it tastes like a cool, creamy Reeces peanut butter cup. yummo!