Now you
know
I couldn't
not
blog today. There is
no
way I would be able wait until Sunday for this thrilling moment-by-moment recap of today's trip.
Yep. Today we went on our 15 hour trip and came home with, like,
four pictures
. So unlike me, I know. But frigid rain and wind really isn't my thing. Nor is walking in frigid rainy weather with my pants getting wet. And neither is the my toes freezing off from water seeping into my tennis shoes. Nope. I'm not a fan of any of that. And, quite frankly,
neither is Mark.
But I
am
a fan of shopping - and, by golly, we sure got our fill of shopping today! Thanks to a tip to check out Tyson's Corner shopping mall, we did just that! And nearly killed ourselves. At one point, I was
sure
that you all might read my obituary -
Shannon died today. It was death by shopping. Walked herself to death, poor thing. Found trampled in front of Bath and Body works near the store directory.
It could happen.
Before that, we
did
attempt Washington D.C. Guess what, guys? DC ain't for me! I mean, it's
neat
I guess. After searching and searching, we found a parking garage. We pulled in and were, like,
way confused.
What, do the people in DC like,
park your car for you!??!
Um, yeah, apparently they
do
.
We tend to park our own cars in Kentucky. We're just.. independent like that.
We walked half a mile, stood in the rain, got soaking wet, and were exhausted and finally reached our destination: the Holocaust Museum. I have, like, a
huge
interest in WWII, Hitler, and the Holocaust. I've had this interest since the 10th grade, and I find it all just fascinating. Terrible, sad, but fascinating too. The museum is 99% banned-photos, so we only got, like, four (in the photo-acceptable parts. We weren't breaking any rules!).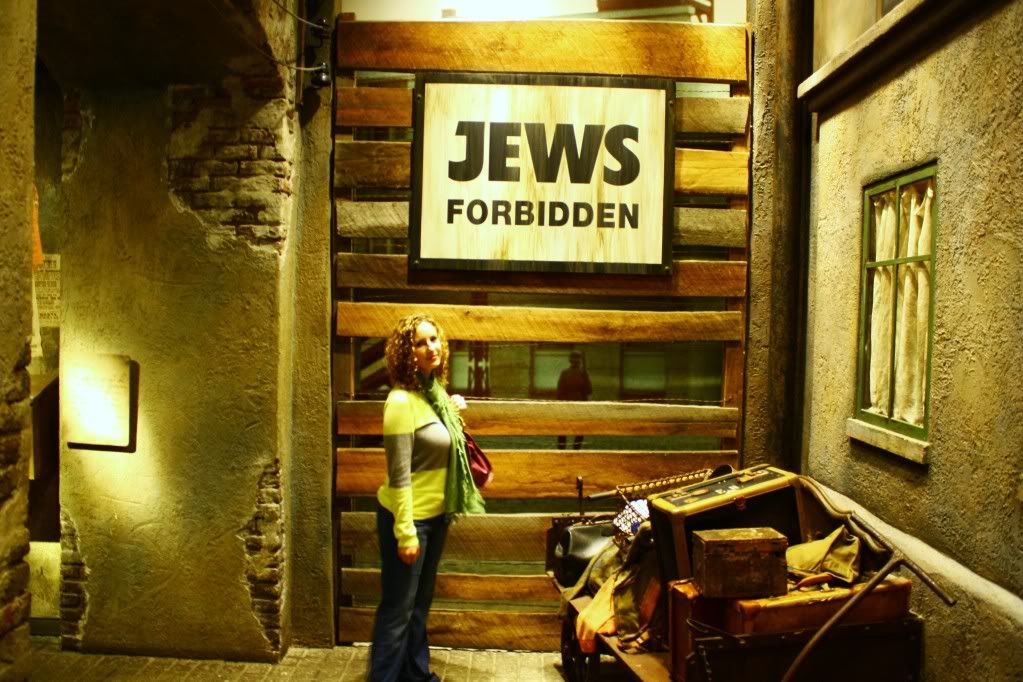 The museum was totally worth it. I think every
teenager
and up should go [not very kid-friendly, unless you're cool with your kid seeing dismembered body parts,
lotsa
dead bodies, and naked men, etc.] but everyone should see it to remind themselves that,
hey,
the world has bigger problems than you think. The world is bigger than we think. Millions of people died, and genocide is
still
happening today [Darfur!]. It's a huge wake-up call. If history ain't your thing, then I get that - but this is in-your-face history, and these people deserve to be remembered. So, if you're in the DC area, check it out!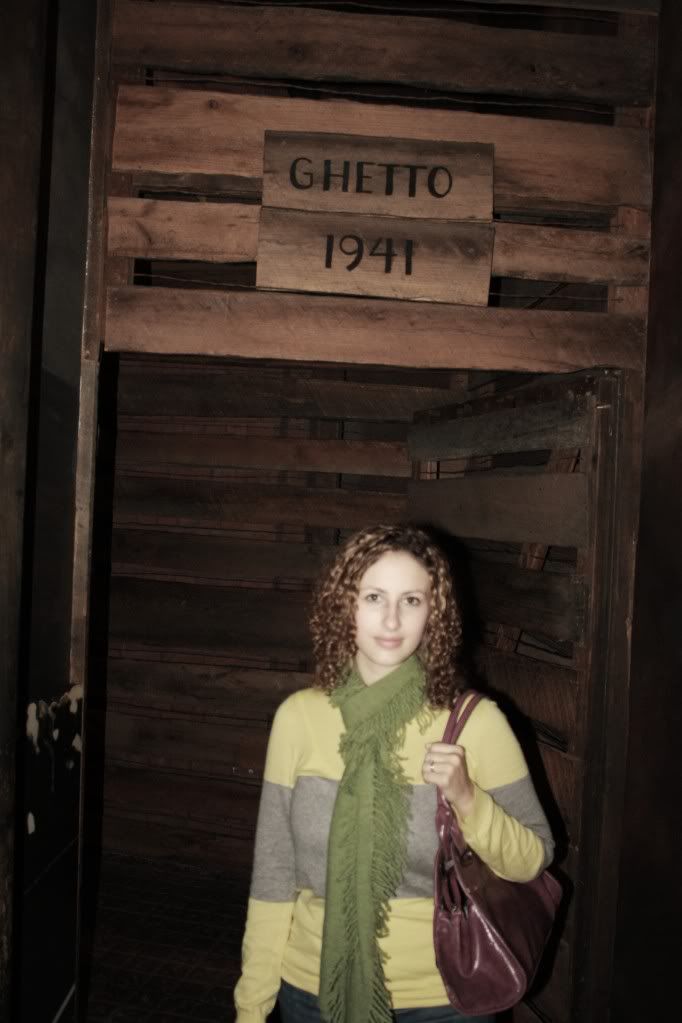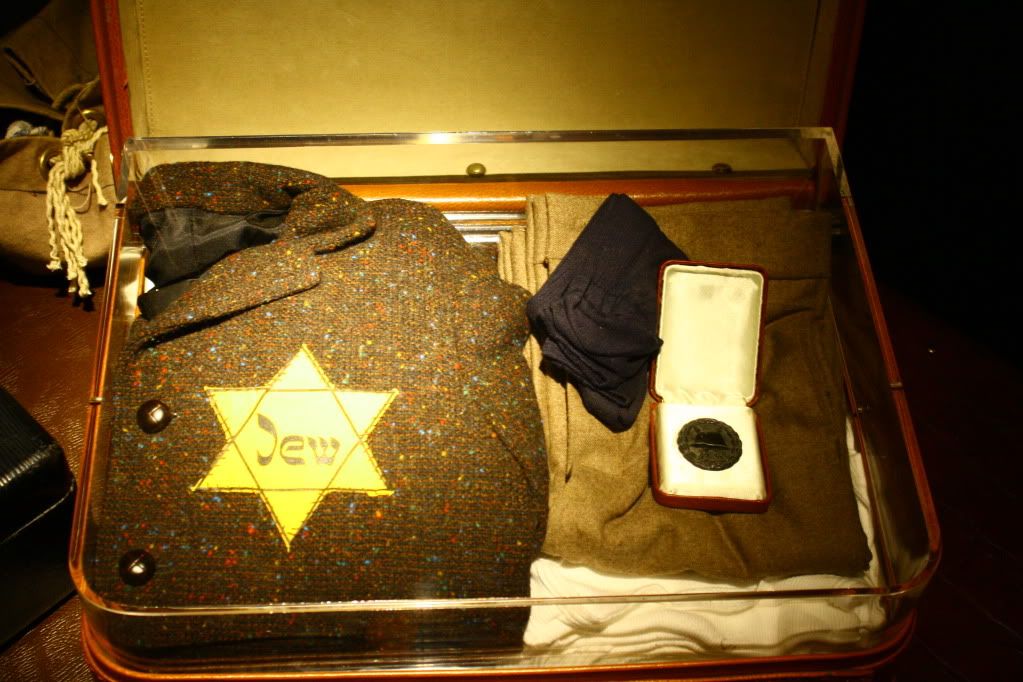 Back to the trip: After leaving the museum, we decided to drive around and "tour" the area. Since it was raining (and frigid), we just drove around like a couple of lost tourists. We
kinda sorta
saw the White House. And we also saw a big pointy building. And... that's about it. I went to DC 5 years ago and marched in the WWII monument opening parade, so I toured the
whole city
. Mark's never been, so it was brand new to him. Regardless, we gave up on DC due to annoying rain and lots of traffic and.. yeah.
To Tyson's Corner we drove! Calling it a
mall
doesn't do it justice. It's more of a village. Or a city. Or something bigger. We probably went into 2% of the stores. Heck, I still don't think we even covered the whole mall. It was just
huge
. We ate at a fancy schmancy Mexican restaurant. I'd never eaten Mexican food on a
square modern plate
before. Mark had fajitas, and I had a bean salad that would make even MckMama's mouth water. Oh, we also had guacamole [prepared tableside], and we inhaled it. I know I said Chipotle's was the best, but this took the grand prize. After lots of looking around, we left with
nothing
.
Yep. We shopped for,
oh
, 4 hours, and left with nothing.
We felt like we had been drug through the mud. We felt like we were at our wit's end. We felt like we could barely move from exhaustion. And then we got an idea: Ikea.
Because, seriously,
nothing
is more fun than wandering the store of Ikea when your energy level is -2. If I were a Sim, I would have been moaning on the floor. But, thankfully, I am not. It took us all of
10 minutes
to find exactly what we wanted. We checked out and left! Such a successful trip -- we are extremely happy, and tomorrow we will put our things together and share what we bought!
We really had a fun trip - and plan to go back in the spring and spend the night so we don't wear ourselves rugged by trying to see it
all
in one day! DC really is a nice area. I'm sure it's even greater when it's dry. And warm. And sunny. Yep, I'm positive!
I love my husband and the fun trips we take. We love to have little weekend adventures and explore the area!! Tomorrow will be a fun day, as well -- including a trip to Trader Joe's for groceries and putting together our new furniture, since Piper isn't here.
wait.
WHAT!?
oh, erm, right - I almost forgot to tell you all. Sheesh,
what
is up with me!? Piper is being boarded until Monday morning.
NOT
by choice, mind you! I mean, by our choice. We
wanted
to pick her up at 930pm tonight, but the vet closes, so we had to leave her. We are pretty,
sniff,
devastated. We've,
tear
, never been separated from her at night.
Tune in tomorrow to see our Ikea purchases! :D