the top 10 mommy-must-haves: a list I'm writing long before I ever become a mommy. get off my back. this is
my
blog.
1. My Breast Friend



Ever seen 18 Kids and Counting? Then you've seen Michelle Duggar breast feed Jordyn using
this
super cool invention. It blows the Boppy right out of the
water
nursery. (Hahaha...) It provides awesome back support for mom, eliminates shoulder stress, and helps baby get the
perfect
latch since the Breast Friend helps baby get the best position. Wanna walk around the house and dust while breastfeeding? Go ahead. Wanna help Big Brother with his homework while feeding baby? Go ahead. Wanan grab a drink while breast feeding? Why, there's even a convenient drink holder built
right in
. At only $40, this is a definite
must have
.
2. The Miracle Blanket
Unlike other swaddling blankets, this little booger has pouches for your baby's arms
and
legs. You're basically wrapping your baby up like a mummy (or like a crazy dude in a straight jacket.. ahem) but your baby will
love
it. At least,
this
little guy does:

Yep, that's
MckMiracle
! But for real - the Miracle Blanket includes a
lateral belly wrap
that soothes babies. Babies love pressure on their mid-section, so this blanket truly works! It "eliminates" colic, helps them get to sleep, and prevents scratching. At $29.99, Miracle Blankets are a
must have
.
3. A Sling
She
gets hers from Kangaroo Korner - the Adjustable Fleece Pouch. Unfortunately, me being left-handed eliminates over HALF the color choices for me. But, hey, that's the price I pay for being a South Paw. An ywho - these little suckers allow you to be super close and snuggly with your baby while having
both
hands free! As an infant, baby is snuggled deep inside the sling. And as they grow, they can sit straight up and enjoy the view:
Super-cool orange stroller is optional. These dudes are $46.50 - a
tad
pricey. But, hey, you can reuse them with each of your kiddos. And your free hands will thank you!
4. Cloth Diapers
I'll wait until you pick your jaw up off the floor.
Okay. Right. I said
cloth diapers
. Don't be scared. I'm not 100% sold on them
yet
. There are
zillions
of brands. Kissaluvs, Imse Vimse, GDiapers, Bum Genius.. and the list continues...
I don't know which brand is the best. And the only reason I would use them because they save money in the
long run
and they're extremely cute. That's it. I don't really have a sales pitch for you.
But cloth diapered babies
do
have less diaper rash, potty train earlier, and look cuter. The upfront cost is a little extreme, so I'm not quite sure...
5. Vulli Sophie the Giraffe Teether
Looks like a regular old giraffe toy, right? That's what I thought too. I was initially attracted to it because it's the same giraffe that the men in Three Men and a Baby give the baby in her crib. I was a
tad
obsessed with that movie as a child - and still am! Anyway, this teether has been around since 1961. Her bumpy head makes babies
love
this teether! She is also made of a special rubber that actually attracts babies due to its unique smell. I've never known
a
nyone
to have this teether, but if you Google it, you will be
shocked
to see its popularity around the world! Sophie is $18.20 on Amazon!
6. A Bumbo Seat
I used to think these seats were
crazy
. Then my younger nephew was born, and I changed my mind fast.
This is H at
less than a month old
. And he will STILL fit in this seat at nearly one year old! It's fabulous. You can feed your baby in this chair, sit him up in the living room while you do household chores (or grab a measly bite to eat for
yourself
for a change!). These Bumbo seats are $39.99 a piece. Again, a tad pricey. But we actually use them around
my
house, so I can definitely say: It's worth the cost!
7. Bright Starts By Your Side Infant Seat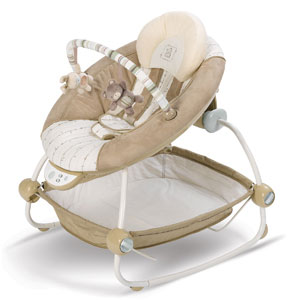 Do you
really
think your baby will lay in a crib on his or her first night home!? Chances are - probably
not
. This seat works
wonders
. It snuggles a baby into a little ball (just how they like to be!). It vibrates and plays
loads
of songs. It even plays nature sounds. Again, my younger nephew has this seat. He loved it from day 1:
He took naps in it and slept in it at night! As you can see, we took the bar with the hanging toys down. It's a hassle to have that in the way when you're working with a newborn. But besides that, this chair
rocks
. It's $69.99 at Babies R Us - but your sleep and happiness are
well
worth the cost!
8. Fisher Price Space-Saver High Chair
Forget about that bulky high chair you've had your eye on for so long! This sucker saves room at the dinner table but still allows your baby to be a part of the family! Again, my nephew has this as well. So I know how awesome this chair really is! It's $54.99 at Babies R Us. Expensive, I know - but
way
cheaper than an actual high chair. You could even drag this thing to a restaurant if you wanted to! Talk about practical!
9. A Travel System You Love
We
love
Chicco's Synergy - because we love orange. However, it's $299.99. Expensive.
Evenflo's Aura Select System is a
lot
cheaper at only $179.99. I don't really have a perference right now. But I
love
orange and green and refuse to buy anything baby girl pink or baby boy blue. I just hate those colors.
10. A great nursery.
This is called the Artist Baby Crib Bedding Set. It's
exactly
what I've always wanted. Unfortunately, it's
out of the question
since it's an unreasonable price of $369 for a 4 piece set. Yikes! So sad.
I think I'll take my sister's bedding set for free instead! :] (This is H's room! and that's red & brown on the walls)