Today has been pretty eventful. After breakfast at the most crowded Cracker Barrel in the world, we went to our new neighborhood! We pulled up in our driveway, peeked in, and took some pictures. Piper loved it immediately. In fact, she was so smitten, that she pooped in our yard. I think it's love at first sight.
Unfortunately, it doesn't look like we have carpet downstairs. That just means that Ikea will play an even
bigger
part in decorating our home. I'm pretty excited.
Right now we are using the hotel's internet. We don't move into our home until Tuesday. And then I don't know when we'll have wireless internet. So these are the best pictures I can give you until then! Sorry.. I know they're horrible. If you need a better view, just click on the picture, and it will take you to my Photobucket account. There, you can enlarge the picture to see it better!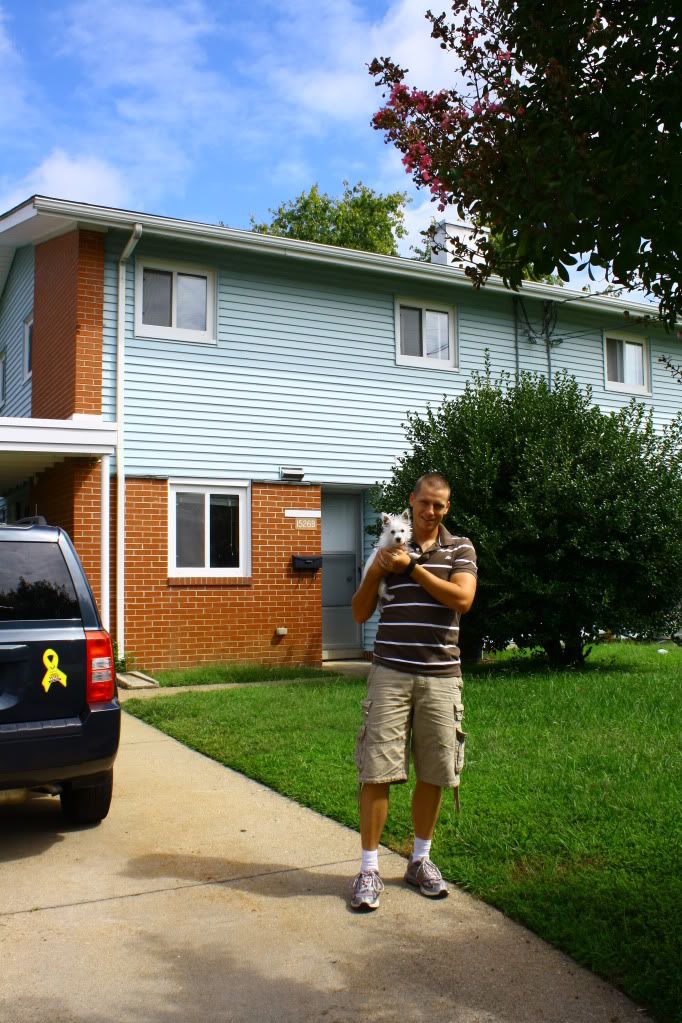 Mark & Piper in front of our home!
View down our street! So cute and homey.
View of half of the stairs. And the blinds in the way.
Part of the pantry & a view of the stairs.
Again, bad picture :)

Living & Dining room..
A horrible picture, I know!

We did go to the beach, but dogs weren't allowed on this one. So far our city is.. huge. We don't really know where anything is. Yet. We're enjoying our time while Mark doesn't have to work. We saw a Vet Clinic on base, so tomorrow we will see if they board dogs. If so, hopefully we can arrange our trip to Ikea this weekend (after we see if Mark has to work or not). Later, I'll post pictures of our trip to Virginia! :)